Sign on to Online Banking
Electronic transaction checking account with no monthly service charge.
---
Ask us about this secure investment with a fixed rate.  Simply set it aside, and watch it grow.
---
A safe and sound way to save for a rainy day.
---
Looking for a little extra cash?  We have a product to fit your needs & budget.
Health Savings Account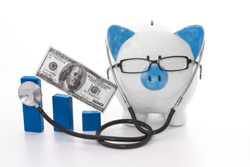 Health conditions are hard to predict.  We all work to have good health, but when the unexpected happens or an ongoing illness surfaces, you need to be prepared financially to do what's best for your health.  If you have a High Deductible Health Plan, you benefit from lower premiums, but this also means you should be prepared to pay a higher deductible.
Our Health savings account (HSAs) is a transaction account that still earns interest on the money saved for qualified medical expenses on a tax-advantaged basis. Consult your tax professional for more information about qualified health plans and medical expenses. 
Come in and talk to a customer service representative at the branch near you to open up your HSA Account. 
$100 minimum to open if by check
$0 minimum to open if by direct deposit
Interest paid on tiered daily balance. This account pays higher interest rates for higher balances. Rates are subject to change daily and interest is paid monthly.
No monthly service charges if the daily balance is above $500.
If the daily balance falls below $500 a service charge will apply.
Transactions are limited to six (6) per month. Each transaction over six will incur a charge of $3.00.
For more information about your HSA account and the IRS rules, click here.
http://www.irs.gov/pub/irs-pdf/p969.pdf
For more information about qualified medical expenses, click here.
http://www.irs.gov/pub/irs-pdf/p502.pdf
2018 IRS Limits
Single Plan
Family Plan
Maximum Contribution Limit
$3,450
$6,900
Minimum Deductible
$1,350
$2,700
Maximum Out-of-Pocket
$6,650
$13,300
Catch-up Contribution (55+)
$4,450
$7,900
2019 IRS Limits
Single Plan
Family Plan
Maximum Contribution Limit
$3,500
$7,000
Minimum Deductible
$1,350
$2,700
Maximum Out-of-Pocket
$6,750
$13,500
Catch-up Contribution (55+)
$1,000
$1,000