Sign on to Online Banking
Latest Updates
New ATM at our Lordsburg Drive Through branch!
About Us
History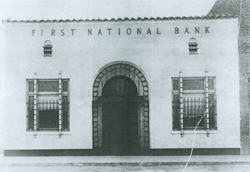 The bank was chartered in July 1907 as the First National Bank of Lordsburg. In September of the same year, we opened our doors for business and have been offering uninterrupted financial services to our communities since then.
During the Great Depression, every other bank in the area closed. First National Bank of Lordsburg was the only bank in the area to remain open during those turbulent times. We have continued to serve the residents of Southwestern New Mexico and Southeastern Arizona. We continue to be one of the strongest independent banks in New Mexico. The bank's name was changed to Western Bank in 1982, when a New Mexico charter was adopted.
Since its inception the bank's primary mission has been to serve the banking needs of Southwestern New Mexico and Southeastern Arizona with a focus on the backbone of our communities, individuals, and locally owned businesses. This continues to be the primary driving force behind the bank today. As the oldest continually operating bank in Southwestern New Mexico, the bank has built a reputation of conservative soundness that has served the bank and our communities well. Through the years our bank has enjoyed quality leadership that has helped the bank maintain a major share of the local banking market.
Currently, many of the financial markets are in turmoil due to problems with exotic mortgages and their overuse throughout our nation. However, this chaos continues to strengthen Western Bank's reputation as a Bank whose services are locally driven for local customers. We manage over $130 million in local assets and are positioning the bank to grow in the future. The expansion at our branch in Silver City in 2008 and the opening of our new branches in Willcox, Arizona in 2010 and Bisbee, AZ in 2012 serves as evidence of our continued commitment to our communities. Conservative banking practices and community driven principles will continue to drive our success for years to come.
We welcome you to visit with our Bankers anytime and understand the difference that it means to be served by a Bank who believes in your long term success as well as its own. We have over 100 years of experience to jumpstart the next 100 years of serving you and your needs.
Vision
"Create Enthusiastic Stakeholders"
Western Bank has four primary groups of Stakeholders: Our Shareholders, Our Customers, Our Employees and our Community. Each has a vested interest in the success of the Bank, and similarly, we must add value to each if the Bank is to thrive in the future.
Our Mission
We will compete against mega-bank branches by providing rapid and timely services in a friendly, relaxed atmosphere allowing us to foster long term relationships with our customers and the community
Surpass the expectations of our Stakeholders by seeking opportunities to provide financial services in Southwestern New Mexico and Southeastern Arizona
We will profitably grow our business while maintaining the financial strength of this institution.